Ski Lessons at the Nordic Center
The Breckenridge Nordic Center has been in the business of getting people on cross country skis for over half a century. 
Over the decades, we have perfected our teaching methods and even designed equipment to help each person learn how to ski as quickly and as safely as possible. At the heart of our success, our passionate, friendly, and patient staff guide hundreds of people of all ages through the adventure of learning how to glide effortlessly and be in complete control of your skis.
How it Works
Never been on skis before?
Join us for group or private ski lessons in Breckenridge! We have beginner lessons everyday. We can also offer private lessons for beginners just starting out, intermediate skiers looking to improve their skills, or advanced skiers looking to be their very best. Our expert staff is excited to help you and give you the best tools for success.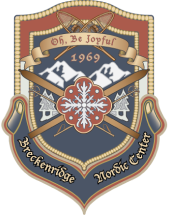 Excellent Staff
Our kind and friendly staff help us to create a wonderful environment during ski lessons in Breckenridge.
Decades of Experience
Our kind and patient staff, teaching methods developed over decades, the very best quality rental equipment, and even teaching equipment designed in-house all make us one of the very best destinations for ski lessons in Breckenridge.
Lessons for All Skill Levels
Whether you are new to the sport or are looking to advance your technique, we love teaching cross country skiing and cannot wait for you and your family to join us.
Ready to Start Your Colorado Mountain Adventure?
Book your cross country skiing, snowshoeing, or snowcat adventure session today! Save $5 off your session by booking online below.
Frequently Asked Questions
Cross country ski lessons last for approximately 75 minutes.
Yes! We recommend a short break after your lesson to rest and rehydrate. Your trail pass and your rentals are good for the day.
We recommend starting with one lesson and see how you're doing after that.  You may want to take some time to practice before your next lesson.  Most people taking additional lessons will want to sign up for a more advanced private lesson or consider learning to skate ski as their next step.
While we are happy to fill empty spaces with walk-ins, it is recommended to book in advance to guarantee a spot. Most of the time you can book your lesson a week in advance but booking around weekends and holidays may require a little more advance booking time.
Trail Map