Breckenridge Nordic Center
History of Breckenridge Nordic Center
From Humble Beginnings to Expanded Horizons
Since 1969, the Breckenridge Nordic Center has been a fundamental piece of the Breckenridge community. We've watched Breckenridge grow through the years and have grown alongside it, turning us into the premier cross country skiing destination in the Rocky Mountains today!
Our Founding
In 1969, our founder and owner, Gene Dayton, began grooming cross country ski trails in and around Breckenridge.
The original trails were used as a method for getting skiers with disabilities out into the woods through what is now a nationally recognized adaptive winter sports program called the Breckenridge Outdoor Education Center (BOEC). In those earliest days, he found himself operating out of a repurposed mining cabin from the 1800's.  This cabin, dubbed the Hallelujah Hut is now a destination hut and sits high on Heaven's Gate ski trail.
Instead of the modern snowcats we use today, Gene dragged an old tire behind himself while he skied to pack out the trails for others to use. A few years later, Gene left the old cabin and, with the help of friends, built an igloo large enough to sleep 15 people.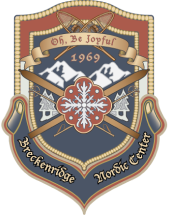 The igloo stored skis and offered a place for individuals in the BOEC's program to hone their outdoor survival skills. Finally, in 1980, Gene was given the opportunity to create a permanent home for the Breckenridge Nordic Center. Breck Ski Resort was selling their 17-year-old ski patrol hut to make room for the Vista Haus restaurant at the top of Peak 8 mountain.
While Gene didn't have the money for the $20,000 price tag, he did have the skills to move the building from its high mountain location and rebuild it at the head of the Nordic Trail System. After consistent prayer, he approached Breck Ski Corp and offered to buy the cabin for $1. Miraculously, they agreed, as long as he had the entire building removed by June 1st of that summer.
Moving on Down
As soon as the road to the top of the mountain was plowed in April, Gene and some helpful volunteers drove up to the building every day and brought down piece after piece.
By June 1st, 73,000 pieces had been removed and labeled for re-construction and only a few broken boards, enough for a small celebratory campfire, remained at the original site.
Despite its small size and leaky roof, the repurposed lodge served as home base for the Breckenridge Nordic Center for over 30 years. During the pine beetle infestation beginning in 2006, hundreds of thousands of acres of Pine Forest in Colorado died. Gene and his family then began looking into ways to repurpose the dead trees to be used in the construction of a new facility.
He purchased a 40′-long log lathe from Finland and began turning the dead pine trees into perfect Lincoln Logs. After four summers and building a dozen small sheds throughout the county, the Daytons had enough large logs and almost enough skill to build the new log lodge that you see today. With the help of local builders, the O' Be Joyful Lodge was erected in 18 months and opened on Christmas day 2013.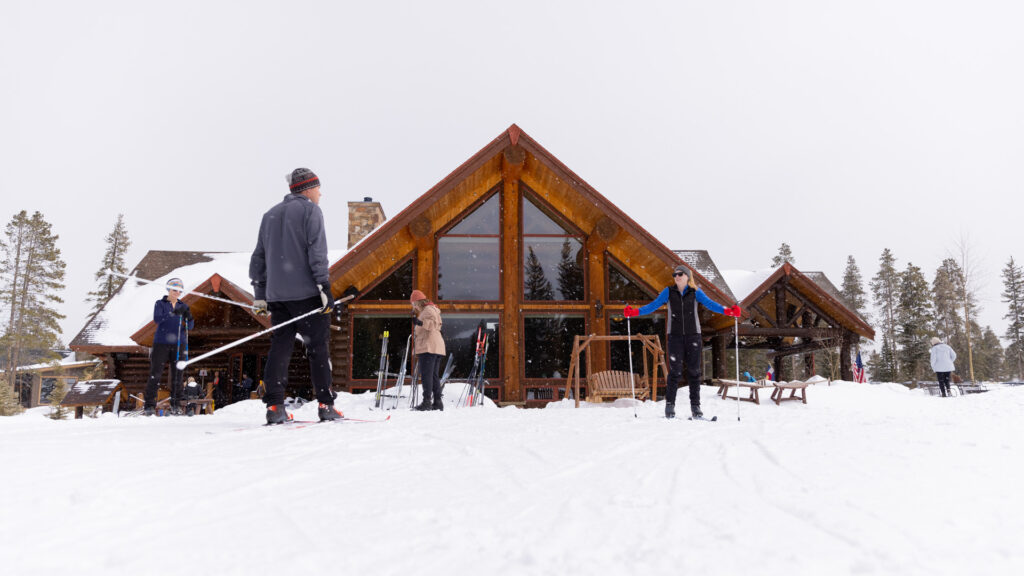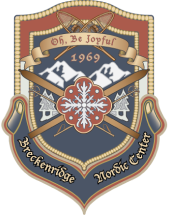 A Joyful New Era
The Oh, Be Joyful Lodge opened on Christmas day 2013!
Now in its 54th season and still operated by the Dayton Family—Gene, Therese, and their youngest son, Josh—the Breckenridge Nordic Center boasts over 1,400 acres of beautiful snow covered terrain with soaring mountain views. Cross country ski trails and snowshoe trails are available for participants of all ages and abilities.
Ski Lessons, Snowshoe Adventure Tours, and Snowcat Adventure Rides are available daily between Mid November and Mid April. Participants can now ski or snowshoe to 3 different warming huts along the trail system including two historic mining cabins built in 1863 and 1896.
After a day of skiing, snowshoeing, or enjoying our snowcat adventure ride, relax and warm up in the Oh, Be Joyful lodge and enjoy food and handmade cocktails from the Black Forest Tavern and Bar. Our Daily Happy Hour runs from 3:00-5:00 and live music can be enjoyed from 3:00-6:00 most Friday nights throughout the winter.
Ready to Start Your Colorado Mountain Adventure?
Contact us today to schedule your cross country skiiing, snowshoeing, or snowcat adventure session today!
Trail Map