Respect the Land
Our cross country ski trails and snowshoe trails are located on leased U.S. Forest Service, protected town land and easements.
They are leased to the Breckenridge Nordic Center for use as cross country ski and snowshoe trails between November and May.
Trail Rules
All users must display a trail pass at all times. Trail Passes may be purchased at the front desk of the Breckenridge Nordic Center at 9 Grandview Drive, or they may be purchased online and picked up at the Breckenridge Nordic Center.
Hiking, biking, dog walking, and sledding are not permitted on the trail system between October and April. Please respect all users and report any issues and concerns to the front desk.  Dogs are never permitted within the Cucumber Gulch Wildlife Preserve even during summer months.  Dogs are permitted on Peak seven trails above Ski Hill Road but must be on leash or on strict voice command.  Owners must carry all waste out and are not permitted to leave plastic bags or dog waste behind at any time.
Downhill skis and snowboards are not permitted on cross country ski trails.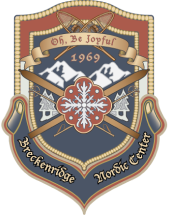 Ready to Start Your Colorado Mountain Adventure?
Contact us today to schedule your cross country skiing, snowshoeing, or snowcat adventure session today!
Trail Map